Download the new AutoNotification here!
2 weeks ago AutoNotification brought you the option to add a Mark As Read button to your Gmail notifications.
Now it's taking it even further by allowing to fully customize the notifications. You can choose between 14 buttons and up to 5 at the same time!
3 Buttons or Less
If you select 3 buttons or less,  the notification will show them as text and it'll look like this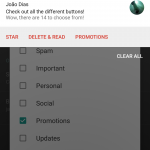 4 or 5 Buttons
If you select more than 3 buttons (up to 5) it'll look like this! All the icons are different so you can easily distinguish them.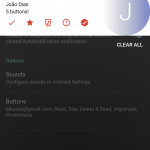 Notification Grouping
Your notifications will now also be grouped by email account so it's easier to manage your notifications.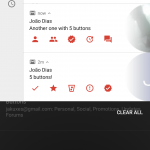 Discuss this release in our G+ community.
Enjoy! 🙂