The Smart Home skill for AutoVoice on the Amazon Echo is finally out of beta! 😀
This skill allows you to bypass the pesky "Ask AutoVoice to…" part of the commands that you always have to say otherwise.
This is how it works:
Enable the skill here or on your Alexa app
In AutoVoice navigate to AutoVoice Devices so that you can register your device to receive smart home commands.
Go back to the main AutoVoice screen
In AutoVoice navigate to Alexa Smart Home Devices
Add a new device with the name of your choosing and with the capabilities you want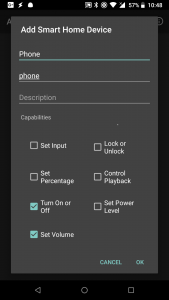 Say to Alexa: "Refresh my devices"
After it has found your AutoVoice devices try out a command like "Turn on my phone" and see if you get a toast at the bottom confirming it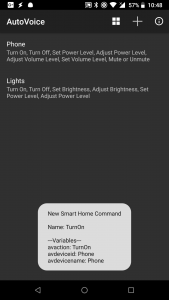 You can react to these commands in Tasker by creating a new profile with the Event -> Plugin -> AutoVoice -> Smart Home condition
That's it! You can now do stuff like "play Kodi", "Turn on Phone" and other stuff as shown in this example video!
Or if you want to get really creative you can make use of Alexa Routines! This allows to run Tasker tasks with any phrase you want!
Check out this quick example:
Full tutorial for how to use Routines to trigger Tasker tasks here!
If you'd like to comment on this release you can do so here.