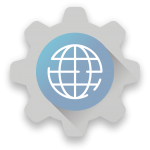 Automate your Web!
This app is now in Beta. Sign up for the beta here. After you sign up for the beta you can download the app here (sometimes it may take some time after you sign up for the beta to give you access to the google play store link. If that happens wait an hour and try again and it should work).
To start using AutoWeb:
In the main app click on "Browse Web Services"
Long press an API you like and import it
If needed, follow the instructions to get your own API key
In Tasker, use the AutoWeb action to use the API you imported previously
See how you can add your own Web Services to AutoWeb here.
You can access AutoWeb's privacy policy here.